Unspoken Souls wins the Sunny Side of the Doc Prize at TokyoDocs 2022!
---
The International Documentary Forum TokyoDocs just closed its doors and offered us two days of insightful pitching sessions taking place on November 1-2. On this occasion, our team was delighted to hand out a Sunny Side of the Doc Prize to the Thai project "UNSPOKEN SOULS The Elephants' Alarm for Our Future". The laureate wins two free accreditations for the next Global Pitch and Sunny Side of the Doc 2023.
About the event
Tokyo Docs is an international event designed to support the overseas expansion of documentaries, including international co-productions. It allows Japanese and Asian documentary filmmakers to network with decision makers from Japan and abroad to help secure funding for Japanese and Asian documentaries' production and support their broadcast, distribution, screening, and sales overseas. This year, pitching sessions gathered around 14 projects from Asia, a unique occasion for our team to award a Sunny Side of the Doc Prize to one of the documentaries in competition.
For this TokyoDocs 12th edition, Sunny Side of the Doc has chosen to hand out a special prize to "UNSPOKEN SOULS The Elephants' Alarm for Our Future", a multi-layered documentary project centered on Lek, an animal rights activist in Thailand. Her fight to protect elephants, minorities and forests against exploitation is an inspiring call to restore the balance between man and nature which deserves to resonate throughout the world. Sunny Side is delighted to give Unspoken Souls a chance to reach out to international partners. Project holders win two free accreditations for the next Global Pitch and Sunny Side of the Doc 2023.
Synopsis
After 20 years of tirelessly working to ethicalize the elephant tourism industry in Thailand, Lek Chailert, an international animal rights activist from the Kamu ethnic minority group, is confronted with the nation-wide plight of malnourished captive elephants and unemployed mahouts when Thailand's tourism crumbles from the lockdown.
Though Lek has her own elephant sanctuary to keep afloat, without hesitation, she and her team race to provide financial support to hundreds of elephants and mahouts all over the country. The responsibility is of a scale she has never taken on before.
Many desperate elephant camp owners, who have attacked Lek's activism against abusive practices, beg her to purchase their elephants to survive the drought of tourism. In such demands, Lek discerns an opportunity in the debilitating pandemic: to accelerate her vision of an ethical transformation of the industry. Among them, Lek manages to persuade an ethnic Lahu owner of a large elephant camp to abandon his abusive business model. But his sudden death triggers an inheritance dispute among his money hungry family members. The transformation process is hindered, leaving 55 elephants in limbo. Seeking an allied successor in the owner's eldest son, New, Lek attempts to keep her grip on the camp.
One of Lek's followers who stands out is Kriengkrai, a former mahout and elephant sanctuary owner that commits to self-sufficient agriculture to feed his family and elephants, deeply reconnecting with nature and his Karen culture. Lek believes that adopting this attitude on a broader scale can become a game changer. As she continues to support captive elephants and ethnic minorities all around the deep mountains of Thailand, Lek becomes ever more convinced that her work is only half complete. To realize the future she envisions, she must speak out not only for elephants but also for the ethnic minority communities and forests that have long been exploited.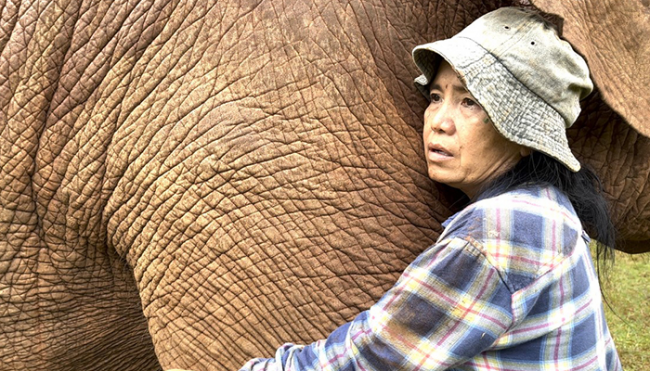 Courtesy of K.M.Tomyam Ltd