Sunny Side of the Doc Awards Special Prize to Korean Docu-Project "Karma" at DMZ Docs Industry
---
At Sunny Side of the Doc, we are driven by the desire to support and encourage talent from all over the world. By seeking out these talents all year round, we want to give them the opportunity to shine on the international stage and move their project forward.
With this in mind, members of our team took part in the DMZ Docs Industry Pitch this week to present a special prize to one of the 16 projects coming from South Korea.
This year, "Karma" (Korea) won the "Sunny Side of the Doc" award. The team will receive two free passes to the next Global Pitch (6-7 February 2024) and Sunny Side of the Doc (24-27 June 2024).
"Karma" - A Journey of Redemption and Compassion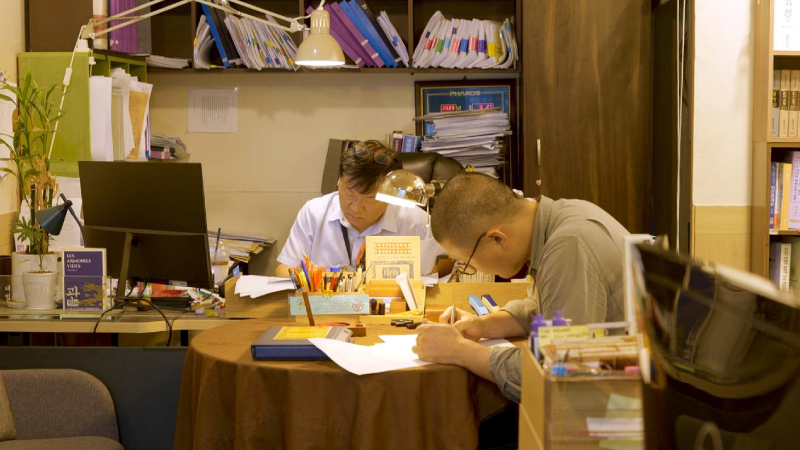 © Karma
Logline: In front of the Seongnam Branch of the Suwon District Court, there is a small legal firm where a father, a certified judicial officer, and his clerk son, work to help the rehabilitation of people in debt. However, it is the judicial officer father who is in desperate need of rehabilitation. He has secretly amassed a debt of 1.5 billion won through horse racing and stocks. Given his debt and job as a judicial officer, he cannot apply for rehabilitation.
After eventually finding out about his father's situation, the son dropped out of college and has been assisting his father's work for the past 6 years. They will now have to work at least 20 years helping others pay-off their debts before getting rid of their own debt. Compared to the three-year repayment period established under the Individual Debtor Rehabilitation Act, the fate of this father and son is somewhat harsh. While the son blames his debt-ridden father, the father resents his interfering son for taking away all the economic power. The father and son fight really terribly every day.
Some people live painful lives due to their personal debts or the debts of their sons, daughters, siblings and parents. By living in such a state of despair, what is there to rely on in life? In the midst ofour give-and-take lives, what choices can be made when faced with repaying a debt? Ultimately, it is the clients who visit the legal firm for rehabilitation that provide the father and son their own chance at rehabilitation. In this film, by recording hisfather, who was ineligible for rehabilitation, and clients currently preparing for rehabilitation, the clerk son wants to show the moment of how their debt is becoming their hope.
Karma is produced by JIN Hyundo and directed by KIM Myunwoo.
About the event
DMZ Docs Industry discovers, supports, and fosters outstanding documentary projects from Korea and Asia, and it organizes a documentary market during the festival so that global documentary industry professionals and filmmakers can meet and interact with each other actively.