Sunny Side awakens your senses…
---
In addition to the various XR conferences that will be running throughout the 4 days of the market, the Innovative Studio - a unique demonstration space dedicated to digital and immersive creation - will be set up right in the heart of the exhibition hall!
In the Studio, you'll be able to discover works from all over the world, thanks to a carte blanche by XN Quebec and a selection from the Sunny Side of the Doc. The Studio, open to all accredited visitors, will be offering inspiring experiences for the documentary world.
THIS IS NOT A CEREMONY
Produced by: Ahnahktsipiitaa (Colin Van Loon); National Film Board of Canada
Technology: VR
Synopsis: In this unforgettable virtual reality experience, two mischievous young poets, matriarchs and bison lead us through some of the darkest episodes in Aboriginal life in Canada.
SPACEWALKERS
Produced by: Félix&Paul Studios
Technology: VR
Synopsis: In this extended version of Spacewalkers, embark on a one-of-a-kind adventure with the first space walk ever captured in breathtaking cinematic virtual reality. Experience the thrill of floating in the vastness of outer space and join astronauts as they venture outside the International Space Station (ISS). You'll learn how astronauts prepare for this life-changing experience and witness every communication between the crew and ground communications.
PLASTISAPIENS
Produced by: Miri Chekhanovich & Édith Jorisch; National Film Board of Canada & Lalibela Productions
Technology: VR
Synopsis: What is the future of human identity? Plastisapiens takes you on a soothing and playful virtual reality journey where organic beings and plastic become one.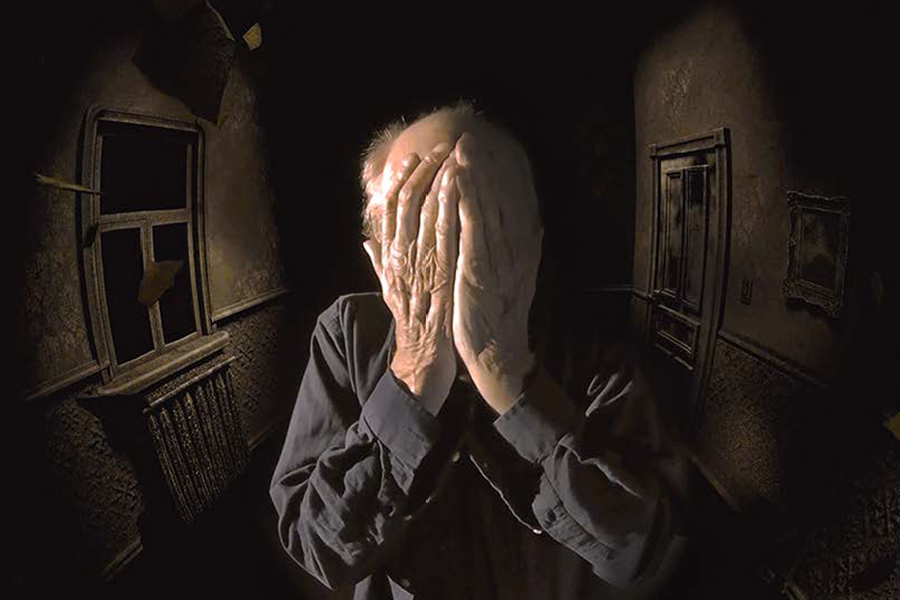 INVISIBLE
Produced by: Michel Lemieux, Studio 4D ART
Technology: VR
Synopsis: In an enigmatic world where everything falls apart, an elderly man comes face to face with himself and becomes separated from his reality. At the end of it all, what remains ? Dust, a glimmer of light and the laughter of an invisible man.
ENTANGLEMENT XR
Produced by: MUTEK, France Jobin & Markus Heckmann
MUTEK immersive collection
Technology: VR
Synopsis: Entanglement distills quantum physics theories into a swooping sensorial experience. It illustrates the concept of entanglement, an uncanny scientific phenomenon that defies explanations. The piece oscillates between four theories: the fluidity of time, multiverse, Copenhagen interpretation and decoherence. These complex notions are filtered into audiovisually radiant tableaus guided by science, technology, and the sensitivity needed to illustrate what cannot be visualized.
OTO'S PLANET
Produced by: Gwenael François ; Skill Lab - Julien Becker, Dpt. - Nicolas S. Roy
Technology: VR prototype
Synopsis: What Oto loves most is to lie on his hammock eating the fruits of the single tree of his little world. This peaceful calm is disturbed by the fall of a small spacecraft from which Exo, an hyperactive and bulky cosmonaut, comes out. Communication and cohabi-tation between the two new roommates turn out to be difficult, nay impossible.
Sunny Side of the Doc selection

Discover the Sunny Side of the Doc selection!
ZEDNA
Produced by: Mikisoq Hove Lynge, Wiebe van der Vliet, David Adler ; CPH:LAB
Technology: VR
Synopsis: "Zedna" is a feature VR documentary film, an investigation of the process of decolonization and of broken identities. An experience and relevant voice in the ongoing debate on colonialism.
WILDERNESS
Produced by: Lisa Eder Film GmbH Production
Technology: AR
Synopsis: Walk through an augmented forest, watch film clips, peek inside a tree to see a bird breeding, experience the wingspan of an Ural Owl in actual size, listen to audio clips, look underground to see the extending nets of fungi … and all this in a guided tour or experience this entertaining app in your own pace.
THE ISLAND OF SHELLS
Produced by: Flash Forward Entertainment
Technology: VR prototype
Synopsis: The Island of Shells is a 6-DoF shadow-puppetry animation documentary inspired by the testimony of Fred CHIN, one of the thousands of political prisoners persecuted during Taiwan's White Terror era in the 70s.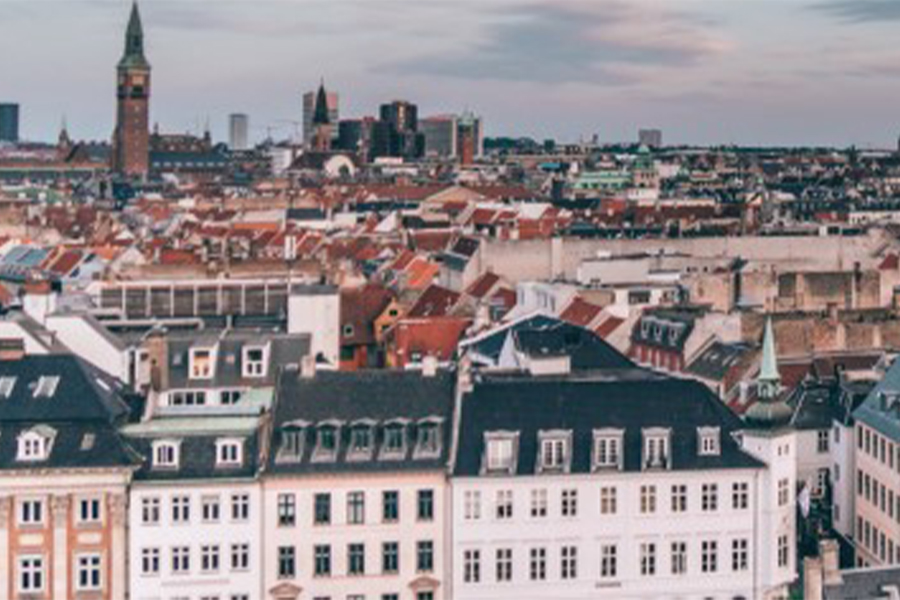 THE STORY OF NIKOLAJ TOWER IN COPENHAGEN
Produced by: Khora & Nikolaj Kunsthal
Technology: VR prototype
Synopsis: The experience takes the viewer all the way up in Nikolaj Tower, one of the tallest and eldest towers in Copenhagen. You hear about the dramatic history of the tower, from it was built in the middle ages, through the great fire of Copenhagen and until now when Nikolaj Church is an arts center. You will have a 360 degrees experience including the feeling of flying up to the tower high above the city roofs.
HIS NAME IS MY NAME
Produced by: A Jongsma + O'Neill production 
Technology: AR; Digital documentary
Synopsis: His Name is My Name is an Instagram based animated documentary series that explores how the crimes of WWII-era perpetrators still reverberate through today's society, shaking the foundations of our homes and our families. Part detective thriller and part personal visual essay, His Name is My Name tracks Eline Jongsma's investigation into her family's history, and shines a light into a still-dark corner of Europe's past.
JFK MEMENTO
Produced by: Targo, Meta, Sixth Floor Museum at Dealey Plaza
Technology: VR
Synopsis: 60 years after President Kennedy's assassination, "JFK Moment" Chronicles the events of November 22, 1963, and the investigation that followed. Dive into the defining moments of the investigation as archive photos and films come to life, re-mastered in 3D, and re-projected onto the historic sites as they were back in 1963.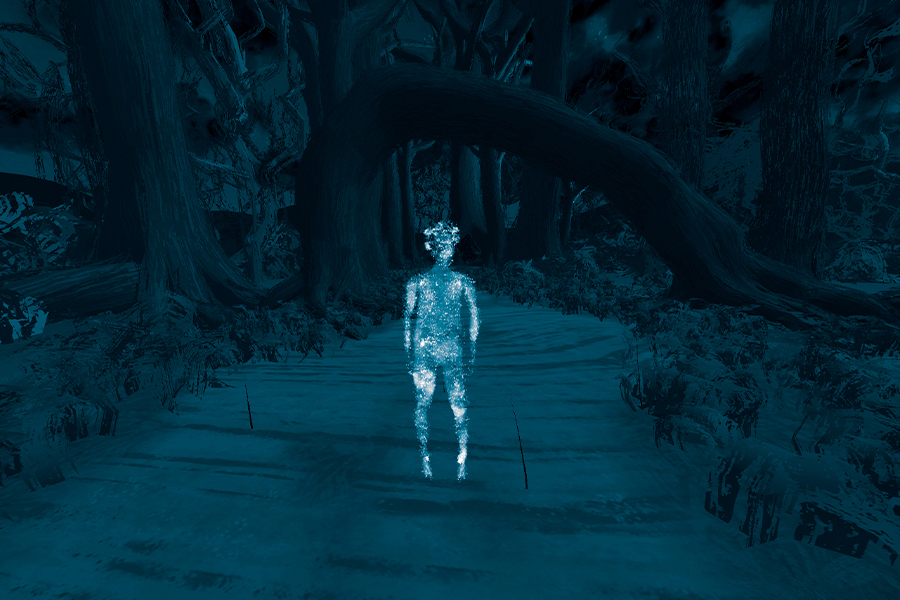 DARKENING
Produced by: Hana Blaha Šilarová, Frame Films
Technology: VR
Synopsis: Comment le monde est-il perçu par une personne souffrant de dépression ? Ce film d'animation immersif en VR aborde la dépression et les moyens d'y faire face. Le réalisateur et protagoniste Ondřej nous guide à travers divers paysages en associant l'histoire de sa lutte contre la dépression depuis la puberté. Il découvre que son outil pour maîtriser la maladie est sa voix.
FIGHT BACK
Produced by: Production Red Corner, Lucid Dreams Productions & France Télévisions
Technology: VR
Synopsis:A long time ago, the First Star defeated Darkness. But today, the Shadows have come back and stars have disappeared from the skies once again. As a newborn star, you have to rescue your sisters, and liberate them from darkness. With their help, you'll reveal your incredible potential and learn the secrets of light and shadows Together as One.
AFFIORARE
Produced by: Mybosswas & Laranja Azul
Technology: VR
Synopsis: Like in a fairy tale, the viewer is immersed in the everyday life of mothers and kids living in special places: prisons and custody institutions for inmates with their children.
CHAMPOLLION THE EGYPTIAN
Produced by: Agnès Molia & Gordon ; Tournez s'il vous plaît, Lucid Realities, Louvre-Lens & Musée du Louvre
Technology: VR
Synopsis: Seven years after having pierced the mystery of the hieroglyphs, Jean-François Champollion enters the temple of Abu Simbel. This is a decisive moment: after a four-month expedition, he meets with the great Ramses II. He feels a mixture of passion, excitement and anxiety: what if his deciphering system isn't fully functional? Upon his exit, finally state "I have the right to announce that there is nothing to amend in our letter on the hieroglyphic alphabet... Our alphabet is correct".
FROM THE MAIN SQUARE
Produced by: Film University Babelsberg Konrad Wolf
Technology: VR
Synopsis: A compact illustration of social disruption. A civilization blossoms, with all its contradictions, only to become a danger to itself.
LIBRARY OF DREAMS
Produced by: Jane Rzheznikova, Aleksandr Lyapunov ; Alina Mihaleva & Less Media Group
Technology: VR
Synopsis: The Library of Dreams is a documentary projet based on the research of dreams during periods of state repression and wars in the Third Reich, USSR and modern Russia, where dreams overcome censorship and report pain. By collecting and recreating dreams, we create an alternative universe, we create an alterntive universe, a universe of authentic feelings.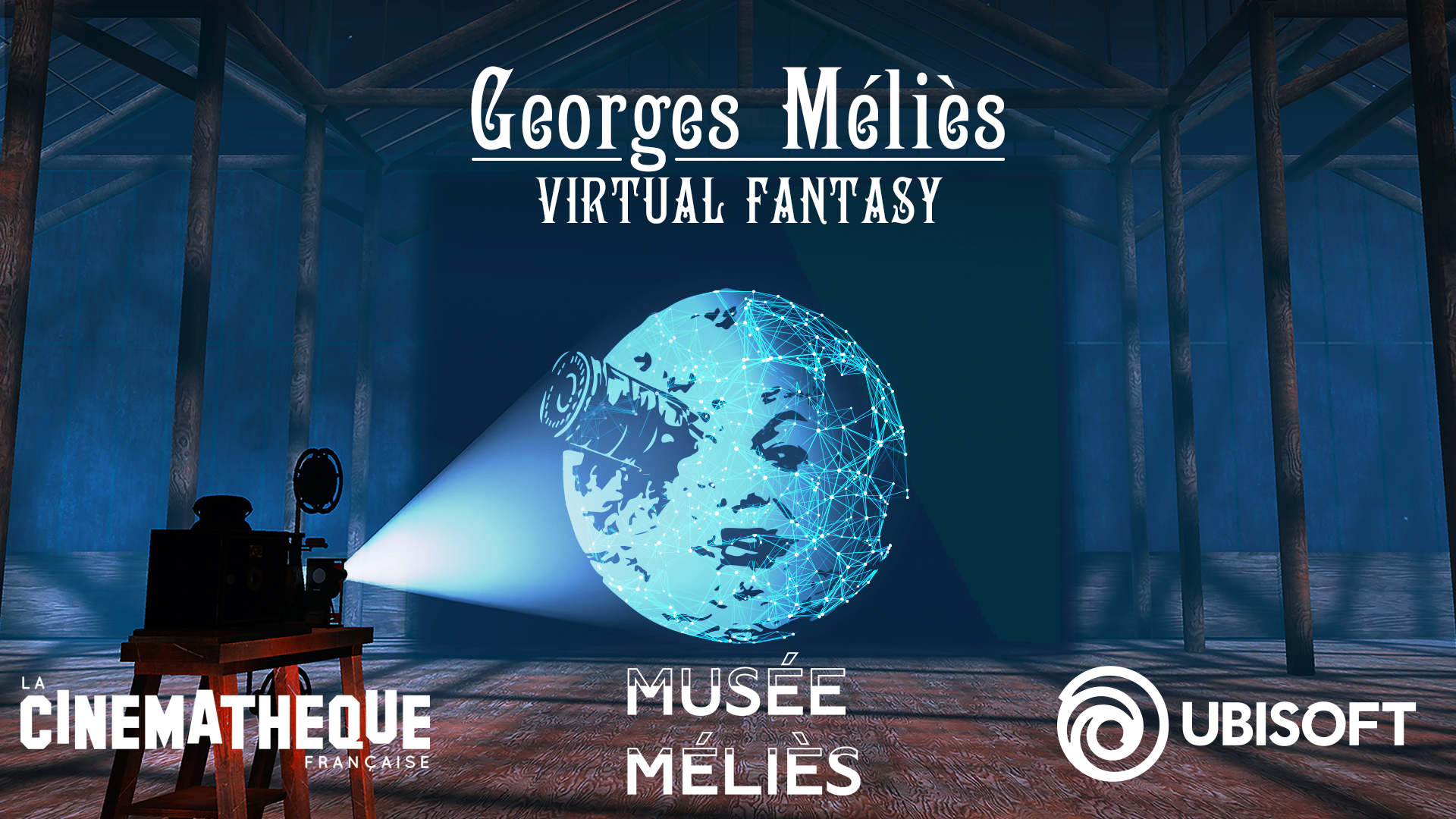 GEORGES MELIES : FANTAISIES VIRTUELLES
Produced by: Ubisoft
Technology: VR
Synopsis: For the Méliès Museum at the Cinémathèque Française in Paris, Ubisoft wanted to pay tribute to Georges Méliès, whose work also foreshadowed the magic of digital creation. This experience will take you on a special journey through cinematic time and space, alongside Georges Méliès's camera. Discover Méliès's studio in Montreuil and explore three different movie sets: watch out for the infernal cauldron, reach for the Moon, and face the Snow Giant!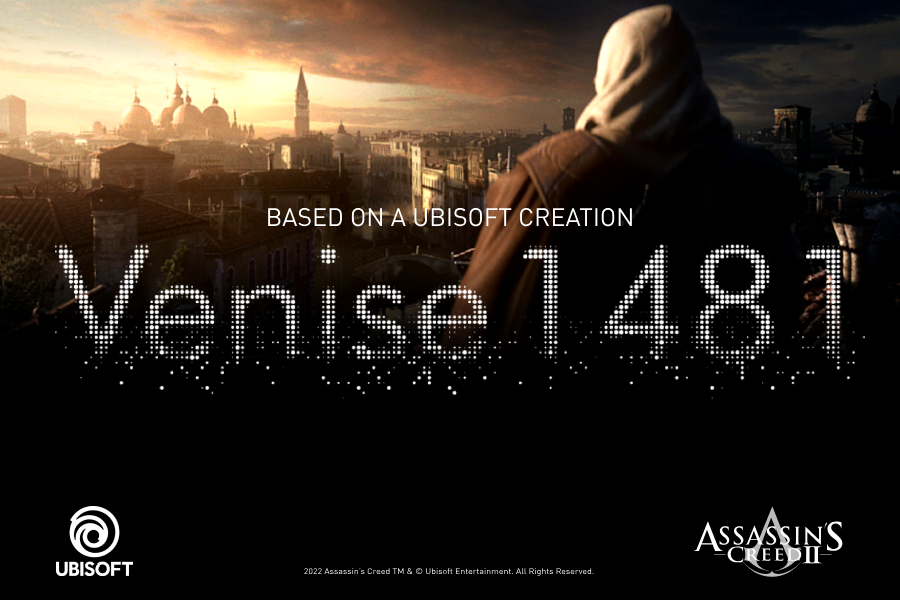 VENISE 1481
Produced by: Ubisoft
Technology: Interactive video
Synopsis: You are invited on a unique visit of Venice in the late 15th century (1481), in the digital recreation of the city featured in the video game Assassin's Creed II. The Assassin's Creed series brings to life intricate historical reconstructions including towns, monuments and civilisations across the centuries. It is a gateway to history for millions of gamers around the world. In this experience, you follow Ezio, the iconic hero of Assassin's Creed II, as he visits the emblematic San Marco district: discover the Doge's Palace, St Mark's Basilica and Campanile as they were during the Italian Renaissance. Venise 1481 was created by Ubisoft for the exhibition Venice Revealed at the Grand Palais Immersif.
ON THE MORNING YOU WAKE (TO THE END OF THE WORLD)
Produced by: Atlas V, Archer's Mark
Technology: VR
Synopsis: On a regular Saturday morning in January 2018, as Hawaiian citizens went about their daily routines, the entire state population received an SMS from the Hawaiʻi Emergency Management Agency, which read: BALLISTIC MISSILE THREAT INBOUND TO HAWAII. SEEK IMMEDIATE SHELTER. THIS IS NOT A DRILL. As cellular communication networks collapsed and panic took hold of the population, 1.4m people (as well as their friends and relatives across the globe) came to understand the real, growing and urgent nature of today's nuclear threat.